Adjusters
Investigation Services *
EFI has expertise in the investigation and analysis of structural warranty and property damage claims. Detailed reports are formatted to assist in determining proximate cause and can be customized according to a client's needs. Since time is of the essence in adjusting claims, EFI is committed to providing fast turn around times for all reports.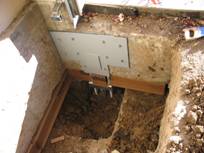 * Currently Licensed in Colorado and Texas.
Repair Design Services *
EFI offers comprehensive repair design services. Repair design plans and bid packages can be expeditiously prepared to fulfill your claim obligations. Standardized bid sheets and contract documents make dealing with repair contractors a time-saving exercise.
* Currently Licensed in Colorado and Texas.
Construction Defect Analysis
Some claims require insight on the interpretation of construction defects. EFI has extensive experience and expertise in this area. It can help you sort out what is, and what is not, a construction defect.
Litigation Support Services
Sometimes claims must be adjusted in the legal arena. EFI also operates in this venue – go to our Attorneys section to see how.